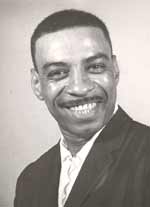 Peter "Chuck" Badie is a bassist best known for his "romping" style on such R&B hits as Jessie Hill's Ooh Poo Poo Pa Doo, Ernie K-Doe's Mother-In-Law, Barbara George's I Know and Chris Kenner's Something You Got. Badie got his professional start with a group called the Buccaneers that consisted of Earl Anderson, Oliver "Snow" Berry, Joe Tillman and others. After a stand at the Dew Drop Inn, Badie got the call to go on the road with Roy Brown (Good Rockin' Tonight) from 1950 to 1952.
Returning to New Orleans, Badie began playing with Paul Gayten's band (which included saxophonist Lee Allen, guitarist Bill Jones, drummer Frankie Parker and trumpeter Jack Willis). That led to Badie joining Dave Bartholomew's band, which in turn, led to a 2½-year gig with Lionel Hampton's band. Badie took a hiatus from music after the death of his father, and resumed his career by joining the American Jazz Quintet around 1957, which consisted of Nat Perrilliat, Alvin Batiste, Ellis Marsalis and Ed Blackwell. He also did session work with Allen Toussaint, which produced the hits Mother-In-Law, Ooh Poo Poo Pa Doo and Something You Got.
Badie became a part of A.F.O. when it was formed in 1961, playing exclusively with the company's executives until 1963. In 1964, he toured and recorded with R&B singer Sam Cooke before returning to New Orleans to perform at Mason's and other clubs around the city.
Badie, a native of New Orleans, was born on May 17, 1925.
Chuck is the soloist on Track 6 of AFO 92-10- A Compendium.
---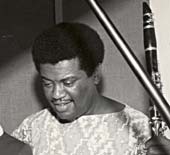 Alvin Batiste is a clarinetist and jazz educator. After receiving his undergraduate degree from Southern University and his master's degree from Louisiana State University (both in Baton Rouge, Louisiana), Batiste returned to Southern in 1969 to create the Jazz Institute. He also has served as artist-in-residence for the New Orleans Public School system, and developed a multi-ethnic music curriculum…
In his musical career, Batiste has performed with the Ray Charles Orchestra, Larry Darnell, Joe Jones, Smiley Lewis, Joe Robichaux, Guitar Slim and George Williams. He also played with the American Jazz Quintet.
Most notably, while still a student at Booker T. Washington High School, Batiste was a guest soloist with the New Orleans Philharmonic playing Mozart's Concerto in Bb, the first time that a Black student ever had such an honor. It also earned Batiste the nickname, "Mozot." Years later, the Philharmonic debuted his North American Idio-syncrasies for Jazz Players. He was also commissioned by the National Endowment for the Arts to compose a concerto for African instruments and orchestra.
Batiste's Jazz Institute at Southern University has welcomed such artists as Cannonball Adderley, James Black, Kenny Burrell, Ron Carter, George Duke, Quincy Jones, Edward "Kidd" Jordan, Ellis Marsalis, Sonny Stitt, Clark Terry and a host of other jazz luminaries. The program continues today and has musically supported such artists as Branford Marsalis, and other artists. Batiste continues to perform with his group, the Jazztronauts.
Batiste, a native of New Orleans, was born on November 7, 1932.
Alvin plays on AFO 91-10- In the Beginning and AFO 92-12- Boogie Live! 1958.
---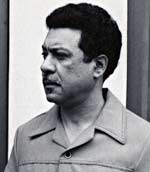 Warren Bell started his career with the original Dooky Chase band by playing alto saxophone. He was a member of the group that included trumpeter Teddy Riley, trumpeter Tony Moret, trombonist Benny Powell, Arnold Benjamin, Harry Sweetwyne and trumpeter Big Fat Emery. Bell's "beautiful alto sound" blended well with the ensemble. He speaks fondly of the Chase band and its arranger John Brunious a.k.a. Pickett, who wrote A Sultan's Dream, a favorite among New Orleans musicians.
Bell went on to play tenor sax with Dave Bartholomew's band. He also performed with a group at the Caravan (in uptown New Orleans off Freret Street) and at the renowned Mason's on Claiborne Avenue. Bell curtailed his music career to support his family and worked for a chain of local food stores. He continues to play whenever a gig arises or when requested by fellow musicians.
Bell, a native of New Orleans, was born on April 2, 1929.
Warren is guest soloist on AFO 91-10- In the Beginning, Track 11.
---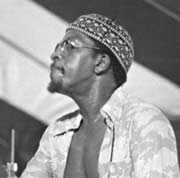 James Black was a colorful, yet quick-tempered drummer that became an accomplished composer. He was a master of the New Orleans "second line" rhythm as a drummer, although he started off as a teenager playing the trumpet, studying under Yvonne Bush at Clark High School and playing piano with June Spears and the Rocketeers, a local band.
By the early 1960s, Black was doing session work as a drummer for Fats Domino. He went on to study at Southern University in Baton Rouge on a music scholarship. He withdrew in his senior year (about 6 months before graduation) to play with Ellis Marsalis at the Playboy Club in New Orleans. This led to a group with Marsalis on piano, Nat Perrilliat on saxophone and Black on drums. Black had already contributed a couple of compositions to Nat and Cannonball Adderley's 1962 session In The Bag.
In 1963, Black wrote four of the seven cuts for Marsalis' Monkey Puzzle album, including the landmark 5/4 piece Magnolia Triangle, one of his greatest compositions.. He went on to perform with Joe Jones and the Dixie Cups, including the session work on their hit, "(Going to the) Chapel of Love." Black later played with Horace Silver, Yusef Lateef and Lionel Hampton. He returned to New Orleans in the 1970s to lead his own groups that included Perrilliat, Marsalis, Richard Payne and Chuck Badie. Black also performed with Marsalis' groups and other musicians until his death.
Black, a native of New Orleans, was born on February 1, 1940. He died on August 30, 1988.
James plays on all tracks of AFO 91-04- The Classic Ellis Marsalis.
---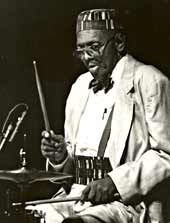 Edward Blackwell and his drumming skills were a prime influence on New Orleans drummers in the 1950s. He was a member of the original American Jazz Quintet, which consisted of Harold Battiste, Ellis Marsalis and others.
Blackwell toured extensively with Ornette Coleman, Sonny Rollins, John Coltrane, Randy Weston and other jazz luminaries.
Blackwell was born on October 10, 1929 and died on October 8, 1992.
Ed plays on all tracks of AFO 91-10- In the Beginning, and all tracks of AFO 92-12- Boogie Live.
---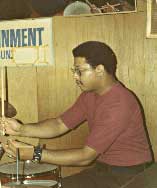 John Boudreaux started off playing drums in elementary school along with Smokey Johnson under the tutelage of Harold Battiste, who was substituting for the regular band teacher. He was influenced at a young age by Ed Blackwell, James Black, Harry Nance and others on the New Orleans music scene.
Boudreaux began his music career playing with the Hawkettes, which later became well known through Art Neville's time with the band. He performed with a road band that billed itself as Shirley & Lee (not the real duo) and then started playing with Clarence "Frogman" Henry before joining Melvin Lastie's band.
Those gigs led to work with Allen Toussaint, Benny Spelman, Ernie K-Doe and Mac Rebennack (Dr. John). His drum work is most notable on the hits Mother-In-Law (Ernie K-Doe), Land of a Thousand Dances (Chris Kenner), Sittin' On My Ya-Ya (Lee Dorsey) and Ooh Poo Poo Pa Doo (Jessie Hill). Boudreaux did extensive session work with the personnel at A.F.O. Records.
Boudreaux is a native of New Roads, Louisiana.
John plays on all tracks of AFO 92-10- A Compendium.
---
Melvin Lastie joined the Paul Barbarin band at age 15 to play the trumpet, and organized a professional jazz band in his senior year at Booker T. Washington High School in New Orleans. That band featured a piano player named Antoine "Fats" Domino as one of its members.
Lastie went on the road at age 16 with Hosa Hill's band and returned to New Orleans in 1948 to form the Melvin Lastie Orchestra. After a stint in the Army, he and his brother joined musical forces to become The Lastie Brothers and toured extensively.. The pair hooked up with renowned blues singer Joe Turner in 1954, with Melvin leading Turner's band during that tour.
Melvin got tired of the road and returned to New Orleans to run his father's concession business while playing regularly at the famous Show Bar on Bourbon Street. He then ran his own nightclub – "The High Hat" – from 1957 to 1959; it took up an entire block and featured three bars with entertainment by Lastie and a host of other artists. He was also a representative for the American Federation of Musicians, Local 496 (New Orleans) and he handled all recording transactions for the musicians union during that time.
Lastie, with Harold Battiste, formed A.F.O. Records in 1961. In 1963, they moved A.F.O. to Los Angeles with a full staff and began producing Sam Cooke's label. The duo was instrumental in two of Cooke's hits – Tennessee Waltz and A Change Is Gonna Come. Joe Jones, who was handling the Dixie Cups, called on Melvin to produce what became their first hit, (Going to the) Chapel of Love. He went on to arrange music and play for Willie Bobo, eventually handling all of his business transactions. He also produced Bobo's first hit Spanish Grease, and his second hit album, Uno, Dos, Tres. Lastie and Battiste began working together again in 1969 to produce several artists, including King Floyd and Al "Shine" Robinson.
Lastie, a native of New Orleans, was born on November 18, 1930 and died December 4, 1972.
Melvin plays on all tracks of AFO 92-10- A Compendium.
---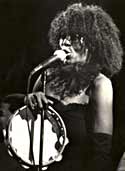 Tami Lynn was a singer known throughout New Orleans as a youngster for her distinctive spirituals. She sang around town with her church group and often joined traveling groups, such as the Clara Ward Singers, whenever they visited New Orleans. She could be heard every Sunday on Dr. Daddy-O's Gospel Show on WMRY Radio.
Lynn began singing R&B by coincidence. She lived in the same block as the Joy Tavern and a singer named "Angel Face" didn't show up for a couple of gigs with Red Tyler's group. The owner, George Clark, suggested that Red listen to "…that little gal down the street…her mama say she can sing." Lynn accepted, hesitantly and nervously sang that night.
A.F.O. executives began performing at the Joy Tavern and took Lynn under their wing. After signing a contract with the company, she recorded Baby, a song written for her by Red Tyler. She toured with a few A.F.O. artists and then went on to New York to perform a few shows at Birdland, opening for John Coltrane. She recorded I'm Gonna Run Away From You in 1965 – the song didn't hit and she returned to New Orleans, only to stop performing for a while.
Lynn occasionally worked with A.F.O. executives on projects, including King Floyd's first album and a Dr. John album. She also did some session work and a few commercials. She had a breakthrough in the early 1970s when John Abby at Mojo Records in England discovered I'm Gonna Run Away and re-released the song, which went to the top of the charts in Britain. She went on the road with Dr. John again before retiring.
Tami sings 9 of the 15 tracks on AFO 92-10- A Compendium.
---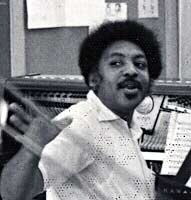 Ellis Marsalis studied clarinet, saxophone and at the then-Xavier School of Music, a high school under the auspices of Xavier University and Gilbert Academy. Ellis' peers included singer Germaine Bazzle, Richard Payne, pianist Edward Frank and pianist Roger Dickerson. Marsalis and Dickerson formed a group called the Groovy Boys' Band, and Ellis played the bass. He replaced Plas Johnson as a saxophone player in the Johnson Brothers Group. Marsalis began playing the piano after taking some lessons and then enrolled at Dillard University. He still played the sax, but then gravitated toward the piano.
Ellis, Ed Blackwell and Harold went to L.A. and got involved in some music experimentation with Ornette Coleman. After a short time, Marsalis returned to New Orleans to help his father operate a motel, one of the few nice inns for Black people during segregation. He performed for a time with the American Jazz Quintet. After a stint in the Marines, Ellis formed a trio with drummer James Black and Marshall Smith that performed regularly at the Playboy Club in the French Quarter. The group became a quartet with the addition of Nat Perrillat and developed into one of the finest jazz bands in the city. Marsalis' father supported Ellis by helping him open a jazz club at his motel, The Music Haven. A.F.O. Records, which Ellis was a part of, produced a live recording at the club. The quartet disbanded when Marsalis began working with Al Hirt.
Marsalis began teaching music at the New Orleans Center for the Creative Arts (NOCCA), a performing arts high school. Ellis went on to teach music at Virginia Commonwealth University and at the University of New Orleans; he retired in 2001. His children have gone on to musical fame in the jazz and classical genres: saxophonist Branford, who was a bandleader on "The Tonight Show," performed with rock artist Sting and has won several Grammys; trumpeter Wynton, who has won Grammys in both classical and jazz categories, won a Pulitzer Prize for his brilliant work, Blood on the Fields, and heads the renowned Lincoln Center Jazz Orchestra; trombonist Delfeayo, who has produced numerous work for his father and brothers as well as other artists; and drummer Jason, whose work with the Latin-jazz group "Los Hombres Calientes," also earned him multiple awards and accolades.
Marsalis, a native of New Orleans, was born on November 14, 1934.
Ellis plays on all tracks of AFO 91-04- The Classic Ellis Marsalis.
---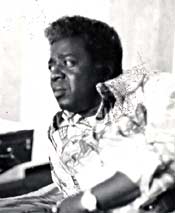 Richard Payne flirted with playing piano, bassoon, French horn and violin before settling on the bass. He was intrigued by classical music, particularly Mozart, and studied music at the Xavier Junior School of Music before moving on to Xavier Preparatory, under the tutelage of Clyde Kerr, Sr. Turned on to jazz by classmate Edward Frank, Payne drifted back and forth between playing music in both genres.
Payne decided to become a music teacher at Colton Junior High, but maintained his love of classical music by playing with the Baton Rouge (La.), Lake Charles (La.), Alexandria (La..), Jackson (Ms.) and New Orleans symphony orchestras. In his spare time, he tried to develop various forms of aircraft.
Payne, a native of New Orleans, was born in September, 1931 and died on May 17, 2000.
Richrad plays on Tracks 11 and 13 of AFO 91-10- In the Beginning.
---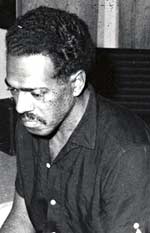 Nathaniel Perrilliat didn't begin playing the saxophone until he started attending Joseph S. Clark High School and was taught by Mrs. Yvonne Bush. Nat practiced constantly, always challenging himself to play tunes at "unbelievable tempos," and honed his chops performing at talent shows at the Caffin Theater in downtown New Orleans.
Perrilliat got his first professional gig with legendary New Orleans pianist Professor Longhair, playing music with Longhair's distinctive funky sound. Nat went on to tour with Roy Montrell and do some session work for Allen Toussaint. In the early 60s, Perrilliat joined the Ellis Marsalis Quartet, recording the seminal album, Monkey Puzzle. After that association ended, Nat went on the road with Junior Parker, Joe Tex and Fats Domino.
Perrilliat, a native of New Orleans, was born November 29, 1936 and died January 26, 1971 in Sacramento, California.
Nat plays on all tracks of AFO 91-04- The Classic Ellis Marsalis.
---
Alvin "Red" Tyler was delayed getting into music because of finances and a stint in the service. The G.I. Bill gave him the opportunity to study at the Gruenwald School of Music under the tutelage of Willie Humphrey, Shirley Bloom and others. After five months of intensive study, Red was asked to join Clyde Kerr's band, and then on to be a part of the popular Dave Bartholomew Band. Tyler joined the band that backed Roy Brown-impersonator Earl Barnes (Brown had recorded the hit, Good Rocking Tonight), but that was a short-lived gig.
Red decided to stick to the more stable world of session work, recording with Fats Domino, Little Richard, Ray Charles, Guitar Slim, Shirley and Lee, Smiley Lewis, Johnny Adams and others. Tyler went on to do some arrangements for some white rock artists, including Jimmy Clanton and Frankie Ford. Tyler began performing at the Joy Tavern with his quartet, which eventually became the A.F.O. executives for the A.F.O. label. That group consisted of Tyler, Harold Battiste, Melvin Lastie, John Boudreaux, Peter "Chuck" Badie and Tami Lynn.
After a brief stint in Los Angeles once A.F.O. folded in 1963, Red returned to New Orleans for one last shot as a record company executive. He formed Parlo Records with George Davis and Warren Parker, recording Aaron Neville singing Tell It Like It Is, which became a national R&B hit and reached sales of one million. Distributors made off with the money from the hit, and Tyler and company never received a dime. Red became a full-time liquor salesman and plays occasional gigs with his quartet.
Tyler, a native of New Orleans, was born on December 5, 1925 and died on April 3, 1998.
Alvin plays on all tracks of AFO 92-10- A Compendium.
---
 
The Next Generation 1990–1999
 
 
The Next Generation 2000–2012