A message from the President of AFO…
From the basic work done by AFO Records and At Last Publishing Co. in the early 1960′s, we will go back to research the period from 1950 through to 2000. We will not only expand the AFO Exhibit, but also uncover many of the treasures of the period that have gone unnoticed by history.
The decision to bring these components under the shelter of a non-profit 501 © (3) organization came about upon recognizing the tremendous importance of the work and the meager resources (money and people power) at my disposal. I needed to beg for both.
I have been very fortunate here at home to have had several…many people who have offered, and helped me in many ways at many levels. Some are helping me now. I hesitate to name them here for fear I may omit someone. Even so, as the project expands and the work becomes more intense, we need more people…people who love this city, its music, and its musicians.
Thank you for your time and attention.
Peace be with you,
HAROLD R. BATTISTE, JR.
1931–2015
Dad, Peace be with you, and the beat goes on…
Harlis Battiste
"LAGNIAPPE: THE SECOND 50 YEARS"
I am in awe of the unique Spirit conjured up by this fertile compost of cultures that exists here in New Orleans. It seems as though every culture wanted to put something in the gumbo, and like any good gumbo mixed with happiness, stirred with joy, and cooked with love…it's got spirit. It was that Spirit which, one hundred years ago, created a musical gumbo that was so good everybody wanted some. They tell me that Buddy Bolden and his buddies served up frequent helpings of this high-spirited dish on the local scene. It wasn't long before the likes of "King" Oliver, "Jelly Roll" Morton were on the road spreading the word up north (east and west too). But…you know that history. It has been fairly well documented and distributed, and the work is ongoing.
What you may not be aware of is that the Spirit started working once again in 1950. The music had traversed the globe and in its travels added the offerings of many local cultures, i.e. Memphis, Chicago, Detroit and New York…Paris and London, even.
When it came back home it had grown into an international celebrity, but the spirit was still there, as always…original, creative, exciting, happy, spiritual!!
Just as Buddy and Jelly had been there in the beginning, there were young cats on the scene…in the compost…ready to receive the spirit and re-ignite the New Orleans flavor. I'm remembering players like the late Ed Blackwell who, along with his buddies, served up frequent helpings of the new gumbo to listeners who were not yet ready for the new taste. After all, New Orleans, with its abundance of rich sounds and flavors, was not hungry for either. These young players had the vision and the courage to hang tough, developing this new way to express the spirit. It would be nearly 20 years before their loving labor and dedication would bear fruit.
The Jazz Spirit, however, had to wait while Blackwell and his generation…men like clarinetist Alvin Batiste and pianist Ellis Marsalis…passed the torch to the children of the '60's. These young New Orleans players, with Wynton Marsalis at the vanguard, have brought acceptance, honor and prestige to jazz such as it never had throughout history. From the halls of every major university which has a Jazz Studies program to the halls of the United States Congress where Jazz has been designated a National Treasure…Spirit has prevailed!
Some "Children of the 60's"
Branford Marsalis, Terence Blanchard, Kent Jordan, Harry Connick, Jr., Henry Butler, Troy Davis, Donald Harrison, Marlon Jordan, Delfeayo Marsalis, Victor Goines, Herlin Riley, Reginald Veal.
The Silverbook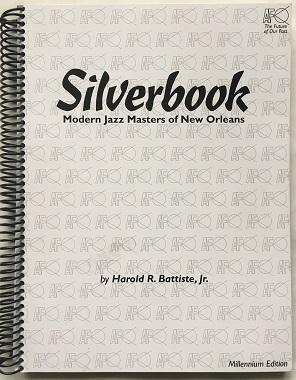 The Silverbook concept is founded and grounded in the spirit of New Orleans. It draws its essence from the echoes of Congo Square, which linger in the air and on the streets of New Orleans. It draws its uniqueness from the special warmth and optimism of the people in this one-of-a-kind city, the city that gave the world this specific expression of American Art – JAZZ!
61 Original Compositions
These selections were carefully chosen from a catalog of more than 200 compositions by some 15 composers. They present the broadest spectrum of applied jazz theory encounters. Many of them were originally written for the specific purpose of solving and resolving certain melodic and harmonic problems.
Form & Analysis
Brief commentaries on the rhythmic, melodic, and harmonic information contained in each composition, along with observations regarding style, genre, and historic perspective, are provided to stimulate thought and discussion of Jazz musicology. A complete second set of leadsheets is included in this section, with ample space for note taking or annotations.
Compositions Arranged by Composer:
Alvin Batiste
Capetown, Chatterbox, Cochise, Comin' On, Mozartin', Nigeria
Harold Batiste
All Alone. Alviette Is Her Name, Beautiful Old Ladies, Carrie Mae, Child Playing, Circle Cycle, Falling In Love, Harlis Laughing, Harold's Church, J.B. Jazz, Madrid, Malibu, Marzique Dancing, Me & Willie Tee, Minor Theme, Minuette in (Funk), My Lady (Of The Morning), My Song, Nevermore, Novia, Ohadi, One Daze, Opus 43, Relaxing, Silver Breeze, Somp'um Sorta Fonky, Song For Andrea, Song For Dance, Song For Yette, Soon We Will Be Together, Stephanie, This Is Love, To Brownie
James Black
Comprehension, Dee Wee, Going Up, Magnolia Triangle, Monkey Puzzle, New Arrival, OId Wyne, Sister Wilson, Whistle Stop
Melvin Lastie
All Alone, Le' John
Tami Lynn
All Alone
Ellis Marsalis
After, Basic Urge, Cry Again, Five For Trane, Life's A Drag, Swinging At The Haven, Toni, 12′s It, When We First Met
Nat Perrilliat
Little Joy
William Swanson
Stephanie
Alvin "Red" Tyler
The Big B.N.
Girls